Winners
Missouri Lottery Winners
Here are the latest big MO Lottery prizes and winner stories. This page is regularly updated with current Missouri Lottery news.
Since the Missouri Lottery began in 1986, it has provided over $6.5 billion to the Missouri State General Revenue Fund and public schools statewide. Since 1992, all Lottery proceeds go to public education, making up approximately 4 percent of school funding.
St. Louis Man Hits $1 Million Scratchers Prize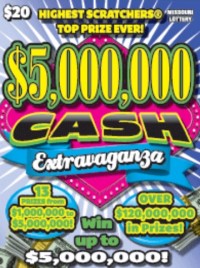 December 4, 2020 - A $5 Million Cash Extravaganza Scratchers win has made Torris Williams an instant millionaire. He claimed the exciting prize just in time for the holiday season after buying the lucky ticket at Schnucks Market, located at 1589 Sierra Vista Plaza in St. Louis.
St. Louis resident Williams is the thirteenth player this year to enjoy a MO Lottery Scratchers win of $1 million or above, and the 152nd winner overall.
Players in St. Louis County won more than $179 million in Missouri Lottery prizes in the last fiscal year. Retailers in the county received more than $17 million in commissions and bonuses, and an additional $29 million went to educational programs in the county.
Powerball Delivers $1 Million Win to St. Louis Player
November 25, 2020 - A spur-of-the-moment choice to pick up a Powerball ticket was a lucky decision for Mario Yancy - he hit the game's $1 million second prize in the October 28 draw by matching all five white balls: 11, 28, 37, 40 and 53.
Yancy, of St. Louis, purchased his winning ticket at DDT Package Liquor at 7206 St. Charles Rock Road in Pagedale.
"I don't play very often, I couldn't believe it," Yancy told MO Lottery officials when he claimed his incredible prize. "I had the ticket checked in multiple places just to see if it was right. I was pretty excited."
Although Yancy is still mulling over what to spend his awesome windfall on, he does plan to invest the majority of the money.
FY20 saw players in St. Louis County take home over $179 million in Missouri Lottery prizes, and the Lottery contributed more than $29 million to the county's schools.
Friends Enjoy MO Money After $1 Million Jefferson City Powerball Win
November 25, 2020 - Five mid-Missouri friends have hit it big with a $1 million Powerball prize on a ticket purchased in Jefferson City. The lucky ticket matched the five main numbers in the November 11 drawing: 13, 15, 17, 45 and 63.
"We've played off and on," said a member of the lottery pool, Patricial Moody of Jefferson City, adding that the lucky group has also won in the past. Also sharing the prize are Gary and Mary Kempker of Jamestown, Larry Lueckenhoff of Jefferson City, and Richard Wallendorf of Sunrise Beach.
Moody bought the group's ticket from Break Time, located at 3000 W. Truman Blvd. in Jefferson City, but didn't check the numbers after the draw. The next day, she returned to the store and learned that the winning ticket was sold there the previous day.
Although Moody didn't suspect one of her tickets was the winner, she was in for a surprise. "I said 'Oh, that's nice. Now would you please check my tickets?'" Moody said, laughing. "And then the clerk checked them and goes, 'It's you!'"
The other group members were in disbelief when Moody told them the size of their win. To convince them of their good fortune, she invited them to come to the store to see the ticket scanned.
Moody told Missouri Lottery officials that she's she's excited about the win, but hasn't decided yet what she will do with her share of the prize.
Players in Cole County claimed over $14.4 million in MO Lottery prizes in FY20, and in excess of $3.7 million in Lottery proceeds was distributed to county education funding.